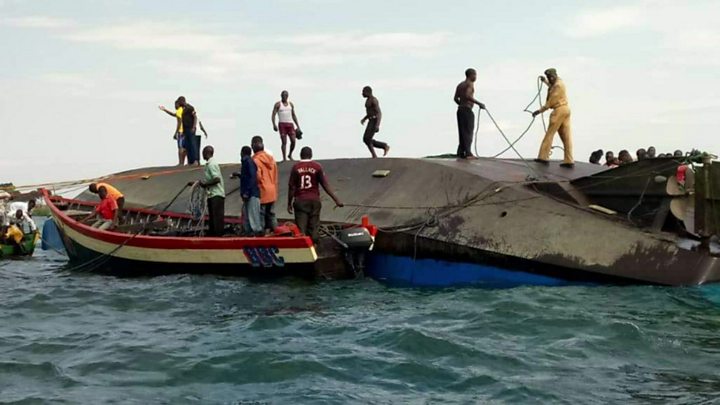 A man has been rescued from a ferry that capsized on Lake Victoria, Tanzania, two days after it overturned with the loss of at least 170 lives.
The engineer, named locally as Alphonce Charahani, reportedly survived in an air pocket inside the MV Nyerere ferry, which capsized near Ukara island on its way from Bugorora on Thursday.
He is said to be in a serious condition.
It is thought the ship tipped when passengers moved over to one side.
Divers resumed the search for survivors on Saturday after hearing knocking noises.
The engineer had locked himself in a small room inside the ship, and the divers pulled him out of the vessel.
Bodies are still being taken out of the water, and the death toll is expected to rise further.
On Friday, Tanzania's President John Magufuli said he had ordered the arrest of all those who managed the ferry, and declared four days of national mourning.
Mr Magufuli reportedly said in a televised speech that "negligence has cost us so many lives", and said it seemed "clear that the ferry was overloaded".
"The arrests have already begun," he said.
But the main opposition party, Chadema, criticised the government's response.
"We have often raised concerns about the poor condition of this ferry, but the government turned a deaf ear," the party's deputy secretary general John Mnyika told AFP.
"We have repeatedly denounced this negligence."
How did this happen?
Local media say the ferry's official capacity was 100 people, but officials say the vessel was carrying more than 400 passengers when it capsized.
It operates on a busy route, crossing eight times a day between the islands of Ukara and Ukwerewe, which are close to Tanzania's second-largest city of Mwanza.
The ferry was said to have been particularly busy because it was market day in Bugorora, on Ukerewe island.
The vessel was also carrying cargo, including bags of cement and maize, when it capsized around 50 metres from the shore.
It is thought that many of the passengers would not have been able to swim.
An official investigation will take place once rescue efforts to find survivors have ended.