By Lawani Mikairu
LAGOS—HUNDREDS of passengers, who had an early morning flight to catch at the Muritala Muhammed Airport, terminal 2, MMA2, Lagos, were, yesterday, stranded as aviation unions barricaded the entrance to the terminal.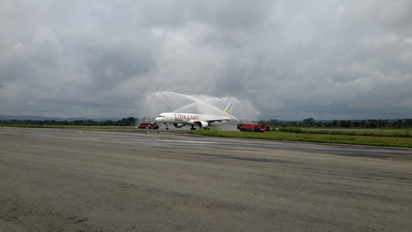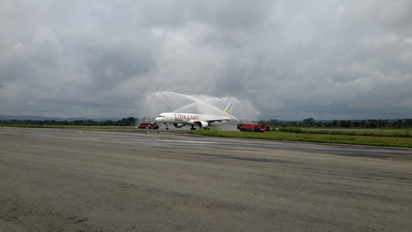 This is coming despite the late court order obtained by Bi Courtney Aviation Services Limited, BASL, operators of the terminal, to stop the unions from disrupting the operations of the terminal.
Strong indications, however, emerged that the picketing will continue today, except a last minute truce is reached.
The protesting unions are the National Union of Air Transport Employees, NUATE, Air Transport Services Senior Staff Association of Nigeria, ATSSSAN and the National Association of Aircraft Pilots and Engineers, NAAPE.
Meanwhile, airlines operating in the terminal are counting their losses as the union members refused to listen to entreaties to open the entry and exit gates of the terminal.
As at 4.00 pm, the unionists were still at the gates chanting solidarity songs despite the presence of security men.
No flight operated from the terminal as at the time of filing this report.
As early as 6am, yesterday, union members blocked the entrances and exits of the terminal.
The protest also caused heavy vehicular traffic around the airport environment, which spilled to some parts of Ikeja and the Agege Motor Road in the morning. There was heavy presence of security operatives including the police and officers of the Nigeria Air Force in the area during the protest.
Why we struck—Unions
Expressing the grievances of the unions, General Secretary of ATSSSA, Francis Akinjole, said: "This issue has been on since May when these workers were sacked because they wanted to join unions. We met the management asking them to reinstate these workers and recognise their rights to join unions but they refused.
"The regulator of the industry, the Nigerian Civil Aviation Authority, NCAA, as well as aviation security agencies intervened in series of meetings, but BASL management has refused to do the needful to avert this crisis."
Bi-Courtney obtains court order
However, Bi-Courtney, in a statement by its spokesman, Mr Steve Omolale, said the company had obtained a court order from the Federal High Court, Lagos, restraining the unions from shutting down Nigeria's only privately-owned terminal.
Omolale said: "We will like to bring it to the attention of the entire public that the Federal High Court in Lagos in suit number FHC/L/CS/16412/18 has granted an order restraining the unions from carrying out their threats of disrupting the activities of the terminal.
"Pursuant to this order, members of the unions found in the premises of MMA2 would be liable to trespass. We reserve our right under the law of Nigeria to deal with such person as a trespasser."